Jodi Granok, CPO®, MSW is a Certified Professional Organizer®, productivity consultant, and public speaker.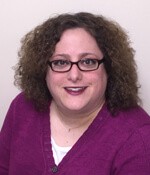 Organizing Magic, LLC® is a professional organizing company in St. Louis, MO that organizes homes, offices and lives for overwhelmed people both in-person and virtually - since 2008.
jodi@organizingmagic.com (314) 504-8857
Sign up
for our FREE organizing e-newsletter today!
Lose the stress and the mess with Organizing Magic, LLC®!
"Having you come over is the best gift I could give myself."

This year, give yourself the gift of an organized home. We are open in December - book your sessions now!
Does this sound like you?
"When I walk in here, I am overwhelmed by clutter."
"These piles of paper are driving me crazy!"
"My home is full of projects I start but never finish."
"I just can't get a handle on my busy schedule."
"School used to be easy, but now I am falling behind."
Getting organized is life-changing:
Remove the emotional and physical burden of items
Save money by avoiding duplicate purchases
Stay focused and finish longstanding projects
Decrease stress and anxiety, feel happy and healthy
Experience clarity and tranquility at home and work
Choose your best option and "Make Your Life Reappear!"®
"Our house was so disorganized! Jodi has been great. She has helped us reorganize our closets, our kids rooms, and has helped me get on top of the bills each month - something I dreaded.
I recommend her without hesitation.
" ~ Rob, Clayton
"I knew I needed help putting my house back in order. I hesitated making that first call but now wish I had called sooner. Any concerns I had about embarrassment, judgement or cost were soon relieved.
Jodi is a true professional. Her expertise was evident throughout the process. She suggested the simplest solutions in the most cost-effective way.
Top notch service - do not hesitate to begin your journey to an organized space. You will be glad you did." ~ Carol, Fenton
"
After working with Jodi to organize my dreaded paperwork, I felt like I lost 30 pounds of anxiety.
Her approach is supportive and nonjudgmental, and the relief and direction I have now are incredibly empowering." ~ Kelly, University City
Tired of sending the same, boring holiday cards year after year? Make a real statement in 2022 with our fun and unique cards! We have Christmas, Hanukkah, New Years, and holiday cards - all with a comical take on being (or needing to be) organized.
Check out our organizing-themed
merchandise shop
on Cafe Press!